Voluntary attrition and employee turnover have risen significantly over the past decade. The unpredictability of the pandemic has only served to magnify and exacerbate these staffing challenges.
Healthcare has been hit particularly hard; with demand for services increasing and labor supply decreasing rapidly, the industry is in crisis mode. Recently, hospital CEO's ranked staff shortages as their top concern for the first time in 17 years, with registered nurses and technicians as the most critical areas of personnel deficit. With 44% of surveyed healthcare staff reporting understaffing issues in their department and over 1/3 of nurses planning to quit their jobs by the end of the year, the issue continues to intensify from all perspectives.
The healthcare staffing crisis prompted a Surgeon General's Advisory in May 2022 to declare the healthcare staffing issue a national priority in the United States. With so much working against them, how do healthcare organizations get ahead and stay ahead of this pervasive staffing issue? A study by The Nurse Staffing Think Tank, a coalition of five nursing organizations, recommends introducing a flexible work schedule as a key tool for attracting and retaining talent. Similarly, ADP Research Institute's "People at Work 2022: A Global Workforce View" survey found that 71% of workers would like more flexibility in their schedules.
Burnout in nurses is also a significant issue driving the staffing crisis. As job understaffing takes hold and more demand is pushed onto available employees, it takes a toll on their physical and mental health, increasing their likelihood of quitting. In fact, more than half of nurses report symptoms of burnout, including insomnia, PTSD, and other mental health challenges.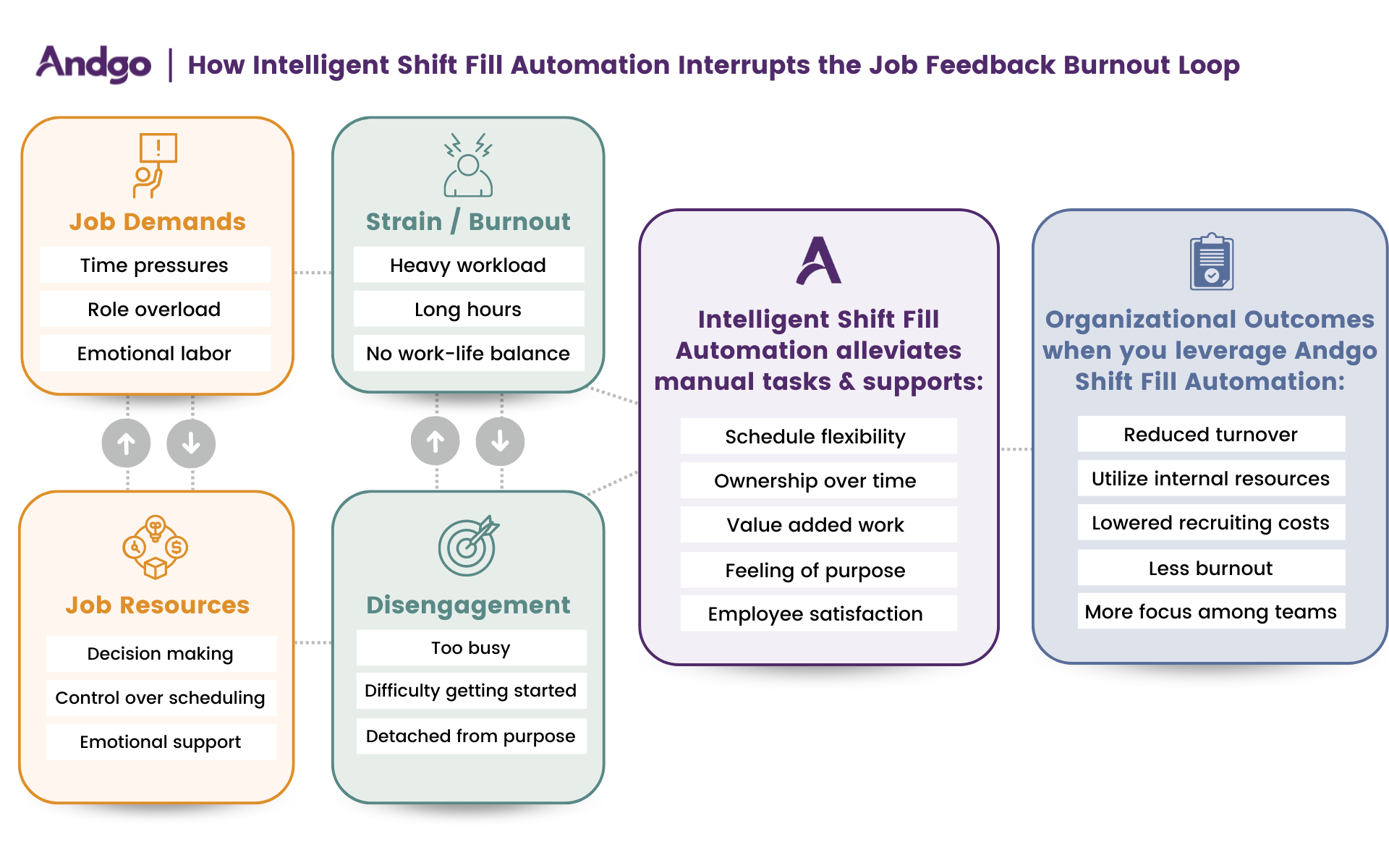 Technology's role in a flexible work environment
Many elements of our work cultures would not be possible without the support of technology. From emails to smartphones, we already lean heavily on technology to facilitate flexibility in our work environments.
Flexible Scheduling
A flexible work environment is often driven by a flexible work schedule. This schedule can take many different forms, but some healthcare examples include:
Preference-based shift scheduling, where employees have autonomy over the shifts they choose to work for by bidding on open shifts
Shift splitting, where longer shifts are segmented to allow employees to bid and pick a shorter / partial shift, for example, instead of a 12-hour shift they can choose to pick up 6-8 hours instead
Float pools, where an organization forms an internal, cross-trained workforce capable of stepping into various roles
Improved Communication
An intelligently automated solution for filling shifts can provide employees with a dedicated hub for sending and receiving communication directly with schedulers. Within minutes, an eligible employee can receive a notification regarding an available shift, bid on it, and receive a response about whether or not it was awarded to them. This entire process can be performed via email, text, or phone call, depending on the employee's communication preferences. Employer-employee communications can also be enhanced by allowing the scheduling department to draft, schedule, and send mass one-way communications to targeted employee segments, ensuring employees get the information they need as soon as it's available.
Actionable Data
Intelligent shift filling automation provides a more seamless, integrated workflow to drive actionable decisions. Data points surrounding shift filling and absence reporting (presented via dashboards) can provide insights into the real-time movement of staff. For example, how and when staff bid on shifts and categorizing the importance of each one. This information can help uncover behavioral patterns and trends that drive decisions regarding when to send out available shift notifications, which shifts to offer first, etc. For a first-hand look into the role of actionable data in a healthcare organization, check out this clip from the Director of Workforce Scheduling at Vancouver Island Health.
Highly Configurable
Flexible and configurable tools to support your organization's unique rules, structure, and requirements are critical. This can include navigating complex union rules, offering notification preference settings, or offering timed or rolling shifts for schedulers, all of which allow your staff more flexibility in line with their schedule preferences.
What are the benefits of a flexible work environment?
While there are many different options for how to implement a flexible work schedule, understanding why it would benefit your organization is key.
Reduces Burn Out
Allowing nurses to choose which shifts they want to work gives them greater control over their time on and off the job, which has immense benefits for their physical and mental well-being. A flexible schedule facilitates an improved work/life balance, giving employees more time to recharge and mitigate potential burnout. Additionally, burnout in health care providers has been linked to suboptimal patient care, therefore a more flexible work environment may play a key role in improving care and treatment for patients.
Recruitment Perk
Attracting and recruiting new employees is a challenge in every field, but it's an issue that's magnified in highly competitive areas such as nursing. Introducing a flexible work schedule can be an attractive component of a total compensation and benefits package, seen as a perk for potential employees. In fact, an Ernst & Young global survey of young workers found that increased flexibility was one of the most important job perks for younger workers. A company offering a flexible working arrangement may be the tipping point of the decision-making process for a potential candidate.
Retention Tool
Just as a flexible schedule can aid in the recruitment of new employees, it can be equally appealing to existing employees. Nearly one-third of workers have sought new jobs due to a lack of flexibility at work. Research shows a positive correlation between granting employees autonomy over their schedules and a greater sense of job satisfaction and a lower likelihood of leaving their positions.
Reduces Absenteeism
Last-minute absences cause major scheduling hurdles in healthcare organizations, but fostering a flexible work environment helps reduce these absences. By providing nurses with the ability to have more say over which shifts they work, they're more likely to show up for the shifts they've committed to, in turn reducing stress on scheduling departments to fill unforeseen vacancies.
Impactful Outcomes - How Andgo Can Help
Andgo can help facilitate the planning and processes involved in creating flexibility in the workplace. By automating the entire process of filling vacant shifts, Andgo's Intelligent Shift Fill Automation Suite automatically communicates vacant immediate & future shift details to eligible employees.
Andgo operates at the intersection of workforce scheduling and staffing challenges, leveraging automation to enable a more efficient and flexible work environment for both employees and employers. Check out this graphic to learn more 👇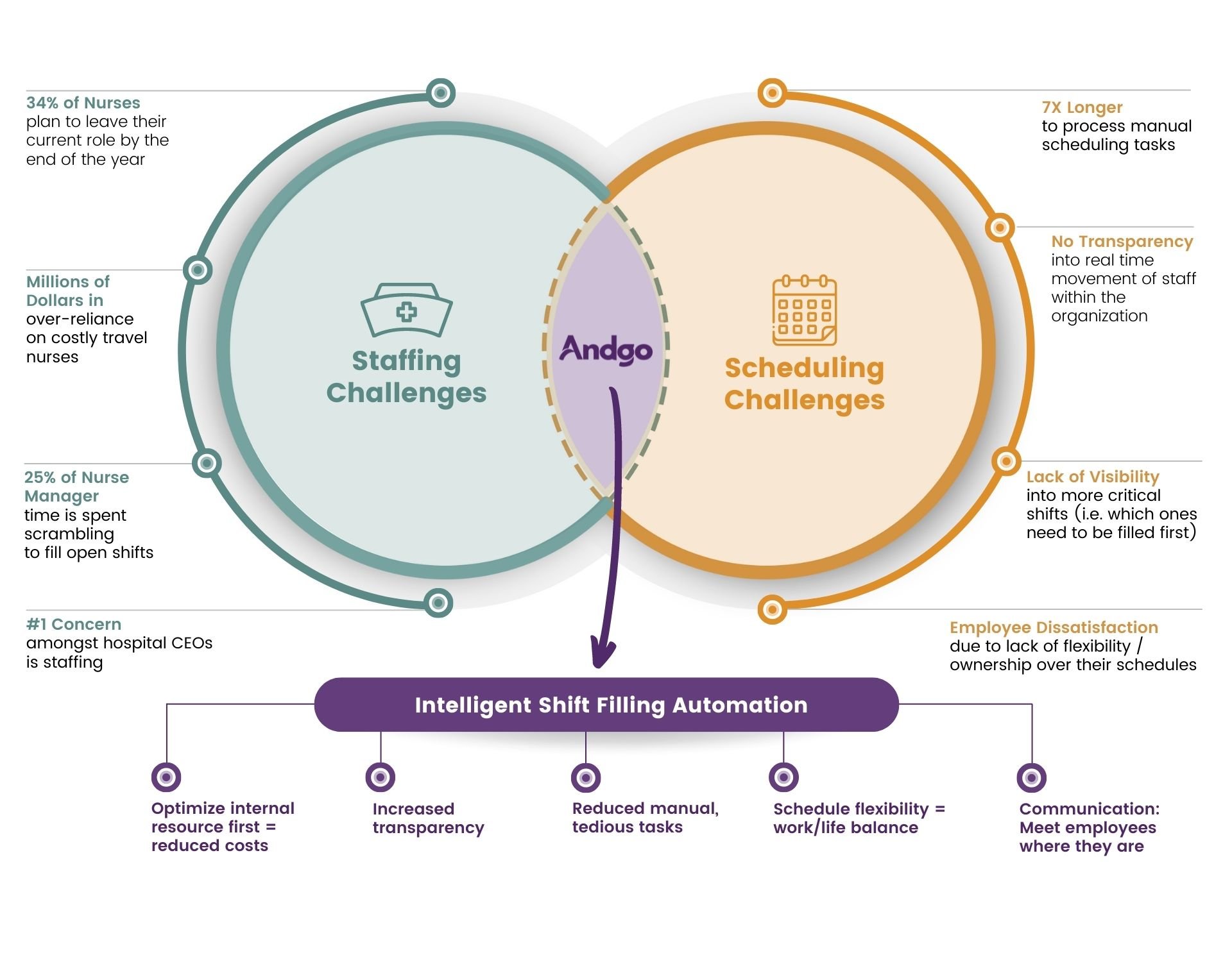 References