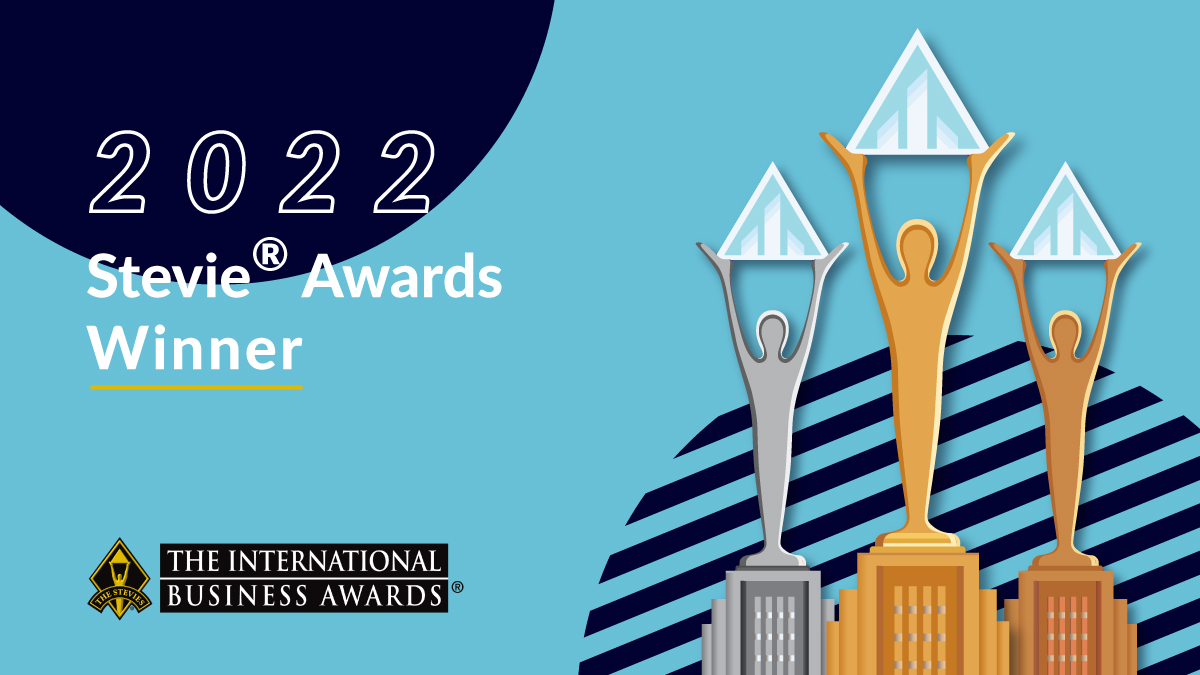 Andgo Systems wins 3 prestigious Stevie® Awards in the 2022 International Business Awards®
Andgo, a leading provider of intelligent workflow automation solutions for dynamic absence onboarding, shift filling, and vacation mapping, was recognized with Gold, Silver and Bronze Stevie Awards in the Company/Organization category in the 19th Annual International Business Awards.
The International Business Awards are the world's premier business awards program. All individuals and organizations worldwide – public and private, for-profit and non-profit, large and small - are eligible to submit nominations. The 2022 IBAs received entries from organizations in 67 nations and territories. More than 3,700 nominations from organizations of all sizes and in virtually every industry were submitted this year for consideration in a wide range of categories.
Andgo's awards include:
Gold: Fastest-Growing Company of the Year (Canada & U.S.A.)
Silver: Corporate Social Responsibility Program of the Year (Canada & U.S.A.)
Bronze: Company of the Year - Computer Software (Small)
Andgo's solution suite has continued to gain rapid traction in the market and thrived during the pandemic as the premier solution to solve significant workforce scheduling problems and deliver tangible business outcomes at scale.
Working at the intersection of human resources and technology, Andgo partners with leading organizations to provide intelligent and impactful solutions to their scheduling challenges. By improving employer-employee communications, increasing scheduling transparency, and providing insights to quickly fill shifts with the right people, Andgo helps large, complex organizations re-focus their time to prioritize their core functions/operations.
Andgo has also taken an active role in the community by launching a Social Responsibility Plan in 2021. Andgo believes that directing efforts toward economic and social issues relevant to our region can create better conditions for our community, team, and company as a whole. We've prioritized our recent efforts to empower the Indigenous communities of Canada. More specifically:
Skills development for Indigenous youth
Indigenous conservation initiatives in Canada
"Andgo is thrilled and honored to be selected for not just one but three Stevie Awards", commented Andgo's CEO Tom Ross. "This recognition serves as validation for the magnitude of staffing and scheduling challenges faced by our customers, and the value of the intelligent automation solutions Andgo provides to address them."
Stevie Award winners were determined by the average scores of more than 300 executives worldwide who participated in the judging process in June and July. Details about The International Business Awards and the lists of Stevie Award winners are available at www.StevieAwards.com/IBA.
Here are a few of the judge's comments on Andgo's winning entries:
"The organization has provided an important product in vital service industries during a time of crisis and has excellent results to show. Well done!!"
"I really liked the layout of this nomination, really clearly setting out the company's commitments and what it wanted to achieve. I love that they have gone for complete inclusion in whom they want their initiatives to benefit, showing respect to indigenous individuals in their community. The formation of a Social Responsibility Committee speaks of their ongoing commitment to their strategies and how seriously they are taking their responsibilities."
"I love the fact that the company helped the healthcare sector to plan and deliver services during the pandemic period. The company's sales growth between 2021 and 2022 testifies to the effectiveness of their services."
About Andgo Systems
Our mission at Andgo is to improve the lives of both our customers and employees. We do this by enabling meaningful and thoughtful work that simplifies complex interactions related to dynamic shift filling and vacation mapping. Andgo's intelligent workflow automation suite fills more shifts faster with the right people. Our holistic, end-to-end approach drives significant ROI to our customers, particularly in high-volume scheduling environments.
For more information, visit our website: www.andgosystems.com.
About the Stevie Awards
Stevie Awards are conferred in eight programs: the Asia-Pacific Stevie Awards, the German Stevie Awards, the Middle East & North Africa Stevie Awards, The American Business Awards®, The International Business Awards®, the Stevie Awards for Women in Business, the Stevie Awards for Great Employers, and the Stevie Awards for Sales & Customer Service. Stevie Awards competitions receive more than 12,000 nominations each year from organizations in more than 70 nations. Honoring organizations of all types and sizes and the people behind them, the Stevies recognize outstanding performances in the workplace worldwide.
Learn more about the Stevie Awards at www.StevieAwards.com.